Sunman Town Hall
Located at: 604 N Meridian Street Sunman, IN 47041
Mail
ing Address: PO Box 147 Sunman, IN 47041
Phone: 812-623-2066
Office Hours: Mon – Fri 8:00 – 12:00; 1:00 – 4:00
Water/Wastewater bills can be paid at the Sunman Town Hall during regular office hours or after hours at the drop-box.
Clerk-Treasurer: Cheryl Taylor
Deputy Clerk-Treasurer: Shirley Campbell
Sunman Museum
Curated by Sunman residents the museum is located in the Sunman Town Hall and features the original 1856 plat of Sunman, the 1930's jail, artifacts of early pioneer families, including the Sunmans, a map showing the route taken by Indiana's 83rd Infantry Regiment from Vicksburg to Savannah, and a display showing the origins of local church-related communities emigrating from specific locations in Germany, France, Britain and Switzerland.
Admission is free.
---
Emergency Services
Sunman Police Department
Located at: 604 N Meridian Street Sunman, IN 47041
Phone: 812-623-5000
For emergencies call 911
Town Marshal: Jason Hoffman
Deputy Marshal: Adam Boesken
Sunman Fire Department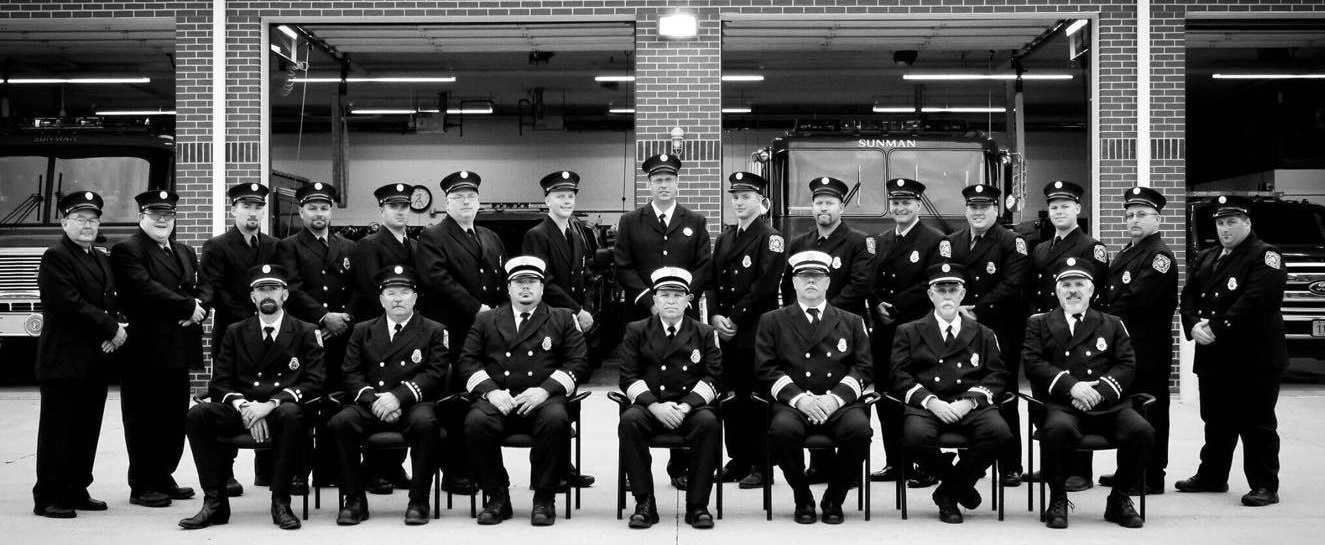 Located at: 621 N Meridian Street Sunman, IN 47041
Mailing Address/Donations: P.O. Box 396, Sunman, IN 47041
Chief: William Craig
The Sunman Rural Fire Department, an all volunteer department, serves the town of Sunman, IN and the surrounding communities within Ripley, Dearborn, and Franklin counties.
The Sunman Rural Fire Department contracts with the Town of Sunman and the surrounding townships for emergency and fire protection services. Those funds are used to pay for normal operating expenses.
The Department depends on the generous contributions from the community in order to purchase the fleet and firefighting equipment and the building improvements required to remain a safe and proficient operation.
All firefighters are unpaid volunteers who spend much time training to remain up-to-date and improve our emergency response skills. If you are interested in supporting the Sunman Rural Fire Department, we encourage you to attend our funding activities, or by mailing a contribution to the address listed above.
Sunman Lifesquad
Located at: 403 N Meridian St Sunman, IN 47041
Mailing Address: PO Box 55 Sunman, IN 47041
EMS provided by Sunman Rescue 20; call 911 for emergencies
• Phone: 812-623-2763
• Email: wzins@etczone.com
• Meeting Schedule: Wednesday 7:00 pm
---
Adams Township Trustee
Trustee: Randy Ashcraft
Phone: 812- 623-0239
Email: randyashcraft54@yahoo.com